Nightwish - Showtime, Storytime [2 BD] (2013) Bluray Full AVC DTS-HD Ma 5.1 ENG 21,2 + 23,0 GB
Nightwish - Showtime, Storytime [2 BD] (2013) Bluray Full AVC DTS-HD Ma 5.1 ENG 21,2 + 23,0 GB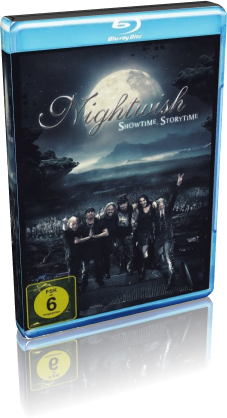 Titolo originale: Nightwish - Showtime, Storytime
Genere: metal pesante, metal sinfonico, metal folk
Luogo e data del concerto: Wacken Open Air, Wacken, Schleswig-Holstein,
Germania - 3 agosto 2013
Anno di pubblicazione: 2013
Durata: 1:38:06 + 02:00:11
Regia: Nightwish
Trama:
"Showtime, Storytime" contiene l'intero concerto dei Nightwish al Wacke Open Air, il più grande festival Heavy Metal. Lo spettacolo, di fronte a 85.000 fan, è stato registrato da Ville Lipià¤inen con l'ausilio di 17 telecamere, per un totale di 85 minuti di concerto, Il secondo DVD contiene 120 minuti di documentario, "Please Learn The Setlist in 48 Hours", che racconta il dietro le quinte a 360В°. In aggiunta contiene 16 minuti di una partita di hockey da tavolo giocata dai Nightwish durante il tour. Infine,per un ulteriore extra, ci sono i due video di "I Want My Tears Back" (Live in the Hartwall Arena) e "Ghost Love Score" (Live in Buenos Aires).
Tracklist:
Disc 1:
[01] Dark Chest Of Wonders
[02] Wish I Had An Angel
[03] She Is My Sin
[04] Ghost River
[05] Ever Dream
[06] Storytime
[07] I Want My Tears Back
[08] Nemo
[09] Last Of The Wilds
[10] Bless The Child
[11] Romanticide
[12] Amaranth
[13] Ghost Love Score
[14] Song Of Myself
[15] Last Ride Of The Day
[16] Outro: Imaginaerum
Bonus:
I Want My Tears Back (Live From Helsinki)
Ghost Love Score (Live From Buenos Aires)
Disc 2:
Please Learn The Setlist In 48 Hours (Documentary)
Bonus:
Nightwish Table Hockey Tournament
Christmas Song For A Lonely Documentarist
Screenshots:
Qualità: Blu-ray
Contenitore: BDMV
Codec video: MPEG-4 AVC
Codec audio: LPCM | DTS-HD Master Audio
Video: | 19998 kbps | 1080p | 24.000 fps | 16: 9 | MPEG-4 AVC
Audio: | 2.0 | 48 kHz | 1536 kbps | 16 bit | LPCM
Audio: | 5.1 | 48 kHz | 3061 kbps | 16 bit | DTS-HD Master Audio
Video: | 19999 kbps | 1080p | 24.000 fps | 16: 9 | MPEG-4 AVC
Audio: | 2.0 | 48 kHz | 1536 kbps | 16 bit | LPCM
InfoSuFiles BD 1:
InfoSuFiles BD 2:
Download: